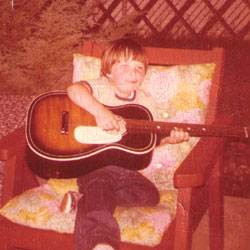 History - The Long Version…

Tom's career is as varied as his lines. Though always playing with intent, every situation calls for something different and there are always new possibilities.
Tom has had a love for music for as long as he can recall. He used to serenade ladies in the grocery store with such gems as John Prine's "Sam Stone" ("There's a hole in daddy's arm where all the money goes") and remembers sifting through his father's record collection and listening to different artists. He would also tap incessantly on tables; agitating teachers, classmates, and (currently) his wife. In fourth grade music class he easily identified the pulse of music and began to navigate (with the help of the local college radio station) the world of pop, rock, etc., understanding later he liked music he could feel.
As far back as Tom remembers he wanted to play music. In fifth grade, after being told the trumpet could play any song in the world, he began lessons. Although he played this for several years, he learned quickly that he had been duped. Yeah, it may play any song in the world but it won't sound right. Tom's trumpet playing lasted through junior high but he would not continue in high school. At the end of his freshman year, coinciding with a vision of moving to LA and finding a band, a bass appeared at a friend's house and Tom took it home. He bought a Mel Bay book and began studying. The bass had to be returned, but just prior to his birthday when his father brought him a Peavey Foundation and a 50 watt amp. That summer he learned that the new music teacher at the high school was bassist Don Williams (Tonkin Toys, Raccoon Beach) and was offered free lessons in exchange for playing in the high school band. During the first lesson Mr. Williams told him he worked a lot because he grooved. This stuck with Tom.
During high school Tom found a musical partner in Matt Smart, a local guitarist, and the two began playing together a lot. Often rehearsing just the two of them, Tom learned to lay down a solid foundation without the added force of drums and to support a soloist with improvisation. The two formed a band (Northern Comfort) with Coby Carlucci and drummer Jason Vittum and began rehearsing daily. This lead to shows at all three of the town bars, the town fair, backyard parties, basement parties, etc.
After the drummer graduated, the drum chair became a rotating seat. One of the drummers was from the local college who also worked in other bands. This lead to Tom's first freelance gig. On this gig Tom realized there was another way of playing in which listening was paramount; the subtle gradients of the music became apparent, the whole became bigger than the sum of its parts and the music became deeper. He has since sought this depth. During high school Tom also performed with the Jazz and Pep Bands, in the pit band for theatre performances, NH Jazz All-State, and jazz ensemble classes at Plymouth State University.
After graduating Tom landed in New Orleans at Loyola University, under the guise of pursuing a music education degree, and soaked in the music of the city. He discovered, and became enamored with, George Porter, Jr. and The Meters and saw them as often as he could. After "Duck" Dunn, George Porter, Jr. was the first bassist Tom studied, followed by Berry Oakley: really listening to his lines and how he played with an ensemble, as well as learning all of the Meters' tunes he could find. Tom also absorbed other local music and started to venture out in the Crescent City to open jams, learning how to navigate ensembles without any rehearsal. Improvisation was not foreign, but this was the first time the bassist had to learn songs on the spot; he had to feel his way around and listen. Through these jams Tom learned many standard arrangements, bass lines, feels, and how to connect with a variety of musicians. However, as much as New Orleans had to offer, Tom wanted to be playing and not studying. It took one more semester at Berklee to convince him of this.
In between semesters he returned to his band Northern Comfort and began working with a Lynyrd Skynyrd tribute band. It was this band that forced Tom to learn by ear. Heavily into the Allman Brothers' "At Fillmore East" disc, Tom thought the Brothers improvised a different show that great every night and sought to do the same. The tribute band's guitarist, however, wanted everything note for note and it was because of these transcriptions that Tom began to understand the importance of arrangement and space: every instrument occupies a certain space and if you listen, you can't always speak.
After leaving Berklee, Tom headed outside of Atlanta hitting the open jams and connected with a band called Kintave´. Rooted in an appreciation for The Allman Brothers Band, The Meters, and blues and R&B, the outfit began playing clubs around town. Although promising, Tom had some unfinished business to take care of in New Hampshire and returned home for a brief time. During this period he worked with the World Cup Blues Band and hosted blues jams with KD Bell.
En route to Nashville, Tom's car had issues outside of Philadelphia. Pausing there to earn some cash, he began playing fill in blues gigs and working with a band at Dickinson College before rerouting to LA.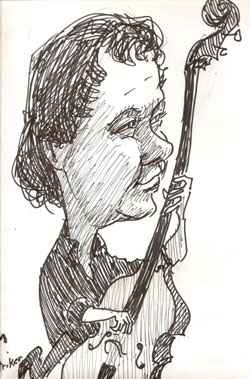 In LA Tom worked his way into the blues scene, freelancing for a handful of artists as well as working with a ministry ensemble, a songstress by the name of Cynthia Catania, an Allman Brothers tribute band, and a rock/pop band called Sickly Sweets. Fast forward, old friend Coby Carlucci calls wanting to put a band together and he and Tom decide to move to Portsmouth, NH, which they recalled as having a strong music scene. Finding the right group of players was hard and the two worked as a duo for a while. As a duo, Two in the Pocket opened for Actual Size, a band led by a Berklee acquaintance Justin Walton. Tom roomed with Justin for several years after this and would often help Justin flush out arrangements for his bands Actual Size and Dreadnaught. Justin was involved in the first incarnation of Tractor Trailer and also played guitar on Coby Carlucci's "Texarkana" disc. One of Tom's highlights included sitting in with Justin's band Dreadnaught, performing their tunes with a second bass.
While still working with Coby Carlucci, Tom worked his way around the New England blues scene, toured with The Chad Hollister Band, and freelanced for a variety of rock acts and songwriters. One of these songwriters was Ethan Bessey and, in some kind of process, Tractor Trailer was born with Coby, drummer Chris Thurston, and the keyboardist from Dickinson College, Adam Tagliamonte. This outfit worked for a little while and had some line up changes before Tom left the band to work primarily with Electric Blue (featuring Eric Normand).
Electric Blue was a rock trio with Ephraim Lowell on drums and focused on extended guitar improvisations. Tom had worked in many trios and understood the harmonic impact the bass can have under a melodic instrument and Eric had great ears and a compatible curiosity for these harmonic experiments.
Eric left for Nashville and Tom continued freelancing in the blues and rock arenas working for Moon Boot Lover, as a brief member of Spookie Daly Pride, holding down the bass chair for Mr. Nick & Friends and The Queen City Kings at the Black Brimmer in Manchester, NH, filling in for the prestigious Soul Band, as well as Chris Fitz, The Dirty Tricks, and Jeremy Lyons. For several years he also kept it solid and funky for the Portsmouth, NH R&B staples Rhythm Method. During his time as the bassist for Mr. Nick and The DIrty Tricks the band took home The New England Music Awards "Best Blues Band". And the list keeps growing.
Tom is currently working with world fusion unit Esthema, Peter Prince and Moon Boot Lover, freelancing, and working on the upright…
For complete chronology and career specifics click here.
Click on any thumbnail to view.